Whether you are a casual or more competitive gamer, you should consider getting a pair of gaming headphones to give you the edge on the competition. With them, you will be able to get a more immersive and accurate sound that your monitor or TV won't be able to give you. When it comes to choosing a pair, there's a lot to pick from that will help you get the most out of your next-gen. PlayStation 5. You will want to consider comfort and design, along with compatibility, connectivity, sound, and microphone performance. Today, we'll be looking at The 3 Best Gaming Headsets For PS5 (2021), that we tested so far. We'll be breaking them down into three different categories, being: The Best Budget, The Best Wired and lastly, The Best Wireless. As with all our top picks, we choose these models based on our own testing. But we also consider other factors as well, such as price, availability, and feedback from the community. We've tested many headphones so far, there's a lot to choose from. So if there's something you really like that didn't make this list, be sure to let us know in the comments below.
The 3 Best Gaming Headsets For PS5 (2021)
ROCCAT Elo 7.1 Air Wireless Surround Sound RGB Gaming Headset
If you're looking for the best gaming headset for the PS5 on a budget, then the Roccat Elo 7.1 Air Wireless is an excellent choice. These well-built headphones have full audio and microphone compatibility for the PS5 via their USB-A dongle. While they do not support USB audio or passive playback but their 16-hr battery life should last through multiple gaming sessions. They're comfortable and have a fairly neutral sound profile out of the box with the extra boom in the bass that adds more thump and punch to your favourite games. They can also be customized using the graphic EQ and Presets available in the Roccat Swarm software on the PC, which carries over to the console. Unfortunately, they have poor noise isolation, and they leak quite a bit, so if you prefer to game at a higher volume, it can distract those around you. Luckily, their boom mic has a good recording quality and noise handling performance for background noises.
SteelSeries Arctis 1 Wireless Gaming Headset for Playstation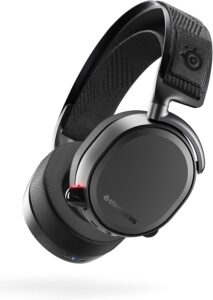 If you prefer wired-only headphones, then consider the SteelSeries Arctis Pro GameDac as the best-wired option. These comfortable headphones come with a DAC that allows for customizing EQs or activating surround sound on-the-fly. You will need to update the GameDac to the latest firmware on their companion PC app SteelSeries Engine. Once updated, simply plug the GameDac via USB and switch to PS5 mode for full compatibility. If you prefer to connect to the DualShock5 directly you can connect them using the unique mobile adapter cable to give you audio and mic compatibility. Their retractable boom mic offers a good recording quality even if you are in a noisy environment.
Logitech G Pro X Gaming Headset with Blue Voice Technology
If you are looking for a wired gaming headset for the PS5 with a detachable boom mic, then consider getting the Logitech G Pro X GamingHeadset. Although the default sound profile of these headphones isn't as neutral and balanced as the Arctis Pro GameDac, some listeners may appreciate the ability to remove the boom mic for a more casual look. That being said, they're comfortable and have a slightly bass-heavy sound profile that adds more punch to explosions or action-packed scenes in your favourite games. You can also customize their sound with presets or the custom EQ using their Logitech G HUB Software on your computer. Their microphone has good recording quality too and should perform well in noisy settings.
The 3 Best Gaming Headsets For PS5 (2021)
This is the Best Wireless Gaming headset that we tested for the PS5. These headphones have a solid build quality and offer lots of gaming-friendly customization at your fingertips, thanks to an all-in-one wireless base station. You can also connect them to your smartphone at the same time via BT to listen to music during your gaming session. You will need to connect the base station via USB and set it to PC mode in order to get full compatibility with the PS5. They have a good wireless range and low audio latency. Thanks to their over 15 hours continuous battery life you won't have to charge them regularly. In case you need it, a second battery can be swapped from the base station like a cartridge, giving you a total of 30 plus hours of game time. Using the SteelSeries Engine on the PC, you can customize their sound and the settings will stay when switching to your PS5. Some features like volume control, channel mixing and EQ can also be adjusted directly on their base station. Their retractable boom microphone has a very good recording quality, and your voice should sound clear to your teammate, even in noisy environments.
If you're looking for a more comfortable pair of gaming headphones for the PS5, then also consider the Astro A50 Gen 4 Wireless2019. While they can't be used with a wired connection like the Steelseries Arctis Pro Wireless and they don't have any Bluetooth compatibility, these pair of headphones have deep and spacious cups which make them comfortable for long hours of gaming. Their microphone can be muted when flipped upward and offer an amazing recording quality with noise handling, which is almost as good as the SteelSeries Arctis Pro Wireless. You can customize their sound via the Astro Command Center. It is important to mention that the headset and base station will require a firmware update before connecting them to your PS5 since the next-gen console does not offer Optical support. Once updated, simply connect the base station via USB only and switch to PS4 mode in order to get full audio and microphone compatibility. If you wish to connect the headset via optical, you can always purchase the Astro HDMI Adapter for the PS5.
Now let's get into the notable mentions since they're a lot that did not quite make the list: Starting with the Sony Pulse 3D Wireless, these are a more affordable pair of gaming headphones that have a unique look. They can be used wirelessly with their proprietary dongle or you can wire them directly to the controller via their 1/8" TRRS cable. However, they are not as comfortable as some of the other headsets we tested and lack customization features like graphic EQ. The Logitech G Pro X Wireless LightSpeed Gaming Headset are very comfortable, well-built gaming headphones but their default sound profile is a bit bright and lacks Bluetooth support. The SteelSeries Arctis 7 2019 Edition Wireless are a more affordable option to the SteelSeries Arctis Pro. They have a similar build but offer better mic customization on their companion software.
Their default sound profile is more bass-heavy, but their boom mic does not perform as well out-of-the-box. The SteelSeries Arctis 7P Wireless offers lots of sound customization. However, the boom mic recording quality does not perform as well as that of the SteelSeries Arctis Pro WirelessThe Logitech G935 Wireless Gaming Headset are great, customizable gaming headphones with a bass-heavy default sound profile. However, their mic's recording quality is not as impressive as the other headsets that we've tested. The Astro A40 TR Headset + MixAmp Pro 2019are impressive wired gaming headset with an open-back design that creates an open, spacious soundstage.
Turtle Beach stealth 600 Gen 2 is a more affordable gaming headphone with long battery life and comfortable fit, but their mic struggles with ambient noise and it can struggle to separate your voice from background noise in noisy environments.
Also Read:
BEST WIRELESS KEYBOARD AND MOUSE FOR GAMING
BEST WIRELESS GAMING MOUSE UNDER $150 IN 2021
So this concludes the topic for The 3 Best Gaming Headsets For PS5 (2021). That's about it for me, I forgot to tell you something, If you're enjoying this article, please make sure to share the article. If you have any questions, comment down below, and I'll try my best to answer them.