Hey guys! In this article, we're going to look at the top five Projectors for Bright rooms available on the market today. We made this list based on our own opinion, research, and customer reviews. We've considered their quality, features, and values when narrowing down the best choices possible. If you want more information and updated pricing on the products mentioned, be sure to check the links in the table below. So, here are the top five Best Projectors for Bright rooms
Top Five Projectors for Bright Rooms
Epson Home Cinema 3100 – LCD Home Theater Projector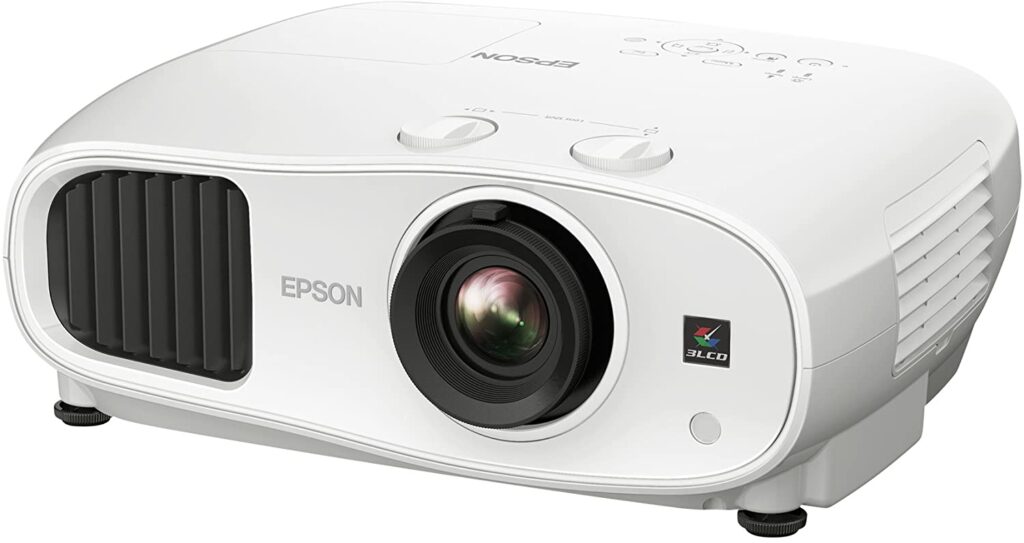 EpsonHome Cinema 3100 Getting yourself a projector capable of working in bright rooms can be a challenge, but the Epson 3100 has loads of ways to fit your situation. Starting at the top of the projector, you'll find various buttons for navigating the menu and adjusting the picture, in addition to physical rings for dialling in the 1.6 times optical zoom, focus, and keystone settings.
This product also has a recessed lens that helps prevent fingerprints and other unwanted smudges when the projector isn't in use. This projector's back features a collection of inputs, including USB-A, USB-B, RCA connections, VGA, and HDMI. With this product, you can enjoy bright, vibrant images at 2,600 lumens and a 60,000:1 dynamic contrast ratio for rich detail in dark scenes.
This has the added benefit of improving function when used under bright ambient light. This unit is designed for quick, effortless setup with simple image adjustments and controls. Being pretty compact and weighing just 14.6pounds, the 3100 is small and light enough to be moved anywhere in the house, although it lacks a carrying case if you plan to take it over to a friend's.
With this unit, you'll have Full HD 1080pand widescreen 3D performance that's perfect for movies, games, and more, with a width of up to 300 inches and an Operating Distance of 32 feet. Finally, the Epson has a very low fan noise between 24 – 35 decibels, making it less distracting during a films' quiet scenes. Epson Home Cinema 3100 is perfect for watching films even in well-lit rooms.
BenQ WXGA – Business Projector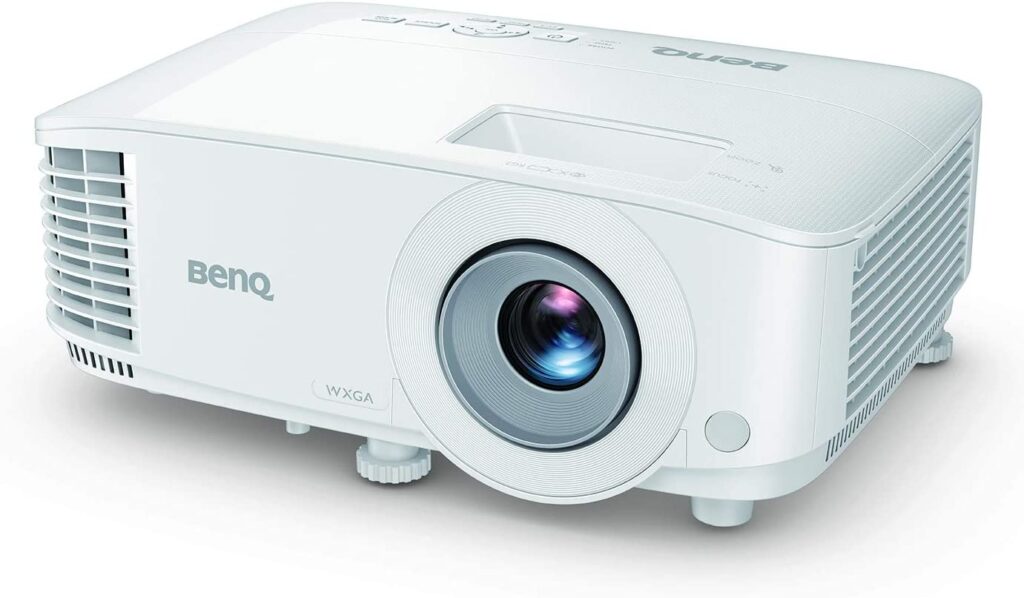 BenQ WXGA. You don't need a blackout cinema room in your house to enjoy clear projector picture quality. The BenQ WXGA is built around a low dispersion lens and a 1,920-by-1,200-pixel DLP chip that gives this projector a 1080p native resolution, so even in brightly lit rooms, you'll be able to see precise details. The BenQ uses high-quality lenses and an excellent color wheel to provide the utmost clarity.
The white segment lets the BenQ deliver a brighter image than you would get from a projector without one, And this also contributes to its rating of 4000 ANSI lumens, combined with the 20,000:1 contrast ratio, which means no matter how bright your room, the picture quality will remain exceptional. With a 1080p and 60-Hertz input resolution, the input lag figure is only 16.4 milliseconds, which along with the fast lag time, makes this projector perfect for all types of films and high-speed games.
Also, if you like to watch movies with subtitles, the BenQ's Exclusive Data Review Mode is ideal as it allows every letter and digit to show up clearly. Furthermore, it has a small, lightweight chassis, which is very important for those that need a projector they can bring with them for a movie or game night with friends. This, along with the 1.1-Times zoom, gives the BenQ some much-needed versatility when positioning the projector.
Lastly, its intelligent eco mode increases the projector's lamp efficiency up to 70 per cent to provide you with far greater product longevity. The BenQ WXGA is a reliable projector suited to watching movies outdoors and playing high fps games. Still haven't found a Projector for BrightRooms that meets your needs? Well, keep watching because we have more lined up for you. Meanwhile, if this is your first time visiting our channel, be sure to subscribe and hit the bell icon to receive notifications of our next videos.
Optoma HD146X – High-Performance Projector for Movies & Gaming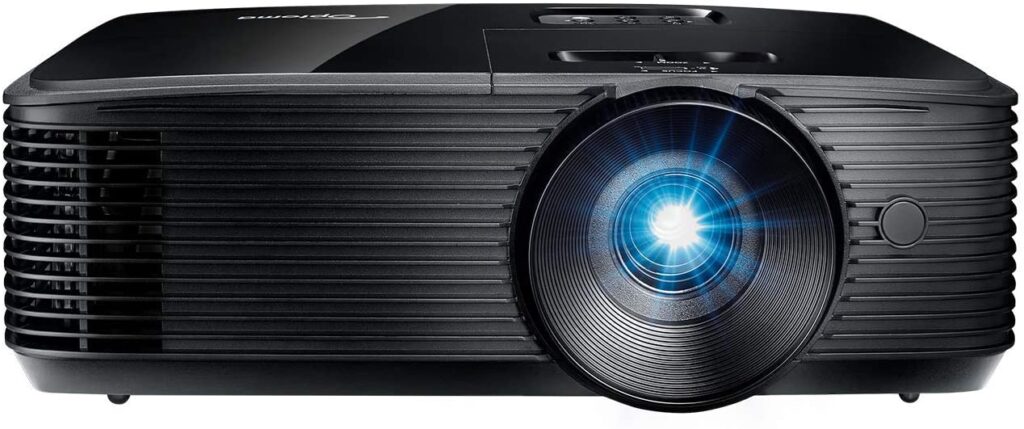 OptomaHD 146X The Optoma HD 146X is the perfect projector for rooms with large windows, with its intense 3600 lumens brightness; this product is able to project clearly even in well-lit areas. The HD 146X is also remarkably adaptable, making installation simple; this is thanks to its 1.1-Times optical zoom, vertical lens shift, and flexible keystone adjustment, making it a breeze to set up. Moreover, its 1080P resolution can provide high clarity images.
There are several handy input options, including HDMI, VGA, and analog, for easy connectivity; what's more, this product has a USB display screen mirroring, which is compatible with iOS and Android devices. You can also use its LAN display via Ethernet connection with Windows or Mac operating systems; this mode also supports up to 4 concurrent computers. With this unit, you get incredible reliability; its eco mode enables an average of 4 hours of viewing time every day for 10+ years.
In Eco mode, you also get a stunning 500,000:1 contrast ratio for pin-sharp graphics and crystal clear text. Furthermore, this Full HD projector with 1920x1080pixels has more than twice the resolution of an HD-Ready display. With its dynamic Black technology, the Optomasmoothly adjusts lamp output to create a stunning, high-contrast image. Bright scenes appear crisp and clear, while dark backgrounds remain detailed with deep blacks and outstanding light and shade detail.
These brighter whites and solid blacks make images come alive and text easier to read, ideal for watching films in bright environments. Lastly, this projector is rated for a 15000-hour life span and has easy to replace bulbs for further extension of use. Optoma HD 146X is a reliable projector that is great for those that need excellent image clarity no matter what environment they're in.
Artlii Energon 2 – Full HD Native 1080P Outdoor Projector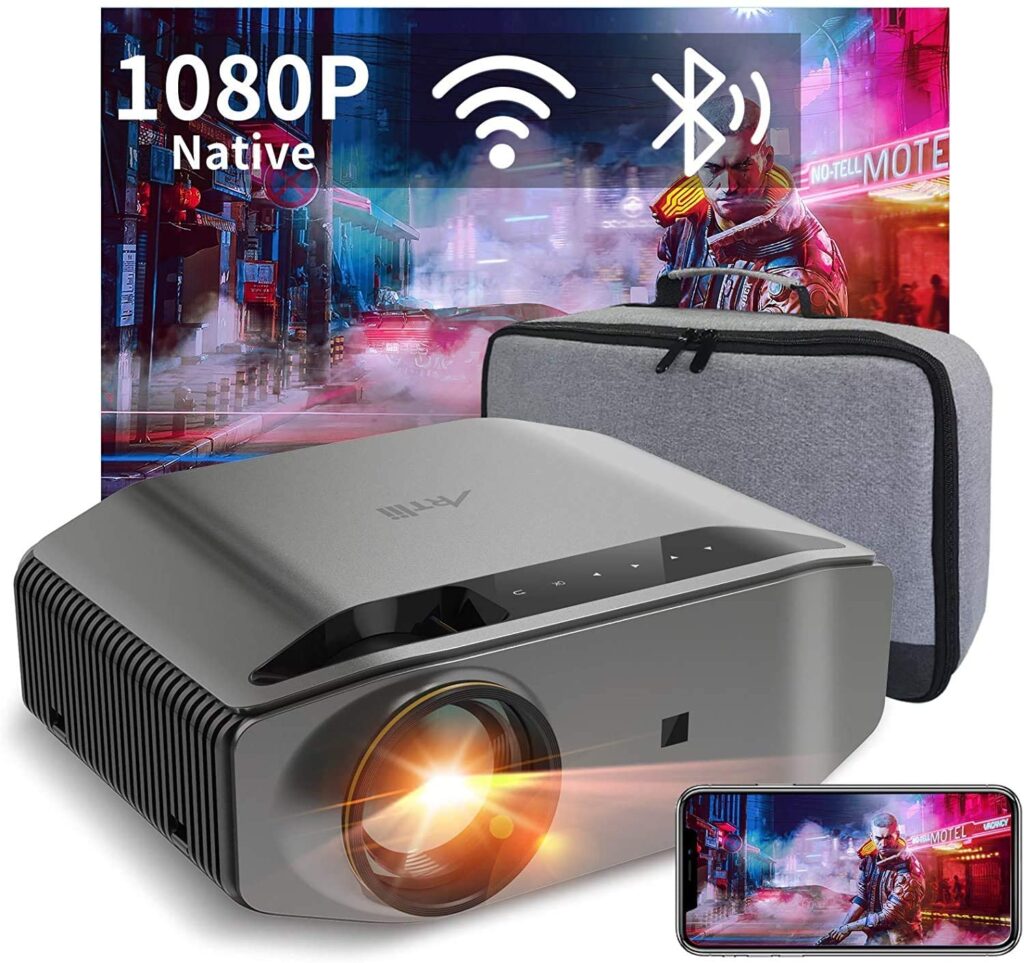 ARTliiEnergon 2 Utilizing bright LED lights and LCD display technology, the ARTlii Energon 2 provides precisely what you need for an at-home entertainment system. With its improved M-star performance chip and TFT LCD technology, the Artlii Energon 2 produces an 8000 lux brightness that is much brighter and more colorful than other types of 1080p WiFi Bluetooth projectors. This product has a color gamut of up to 95-percent and can provide around 17 million different color ranges and display 100-percent Red, Green, Blue color signals for every image.
This kind of function brings you an exceptional cinematic experience. The Energon 2 has a resolution of 1920x1080pixels, it supports 4K, 10000: 1 high dynamic contrast and features 5 layers of high Refractiveglass lens, all combined to give you a brighter and sharper image even in unfavourable conditions such as next to a window or under a fluorescent light. This projector supports multiple connectivity options, including; HDMI, USB, VGA, AV, SD card, 3.5mm Aux, Bluetooth, and additionally it can be connected to a TV stick to watch Netflix, Amazon Prime, or Disney plus streams.
Thanks to these outputs, it can easily transfer movies, videos, photos, or games from IOS and Android smartphones straight to the large screen projection display. This unit also provides a Bluetooth connection, so you can connect to various Bluetooth speakers and headphones. Finally, the Artlii offers a display of 44to 300-inches, with a projector distance of 5 to 30 feet, and you can customize your projection screen size from 60 to 100-per cent either by remote control or manually.
The ARTlii Energon 2 is a highly rated projector that provides bright, picture-perfect images for casual viewing of films and tv. Before we reveal number one, be sure to check out the description below for the newest deals on each of these items. And, be sure to subscribe if you want to stay up to date on the best products on the market.
VANKYO Performance – V630W WiFi Projector
Finally, our top Projectors for Bright rooms is the VANKYO Performance This high-performance LED projector brings3 times more detail than 720P projectors and is well suited for Gaming and Film nights in less than ideal lighting conditions. The Vankyo Performance delivers impressive image and text clarity that can be focused with an adjustment dial. Movie subtitles and other text are always legible and easy to read. Furthermore, its colors are well-represented, and there are plenty of menu options to adjust the image if needed With 4000 lumens, it's unquestionably very bright and can be used in well-lit areas with ease.
The setup process for the Vankyo is simple, and its menu is easy to operate and understand. You can easily connect your iPhone to the projector using a Lightning to HDMI adapter or Android device using a Micro USB to HDMI adapter. Additionally, it comes with an HDMI cable so that you can connect it to a TV, laptop, or DVD player. All you need to do is click on one end of the cable to the projector and your computer to the other end, and you're ready to go.
This unit also offers other external connectivity options like a USB flash drive, hard drive, and SD card. Moreover, this device has a clever ventilation system on the bottom and sides of the projector to keep it cool, even if used all day. With the Vankyo, you get 1080p Full HD resolution, a Full HD projection with a screen size up to 25 feet wide, and a minimum screen size of 50 inches. Lastly, VANKYO offers full customer support,3-years of free repairs, and a 3 months free return with a full refund option. The VANKYO Performance makes hosting entertainment activities easy; it's recommended for anyone looking for a reliable projector to cope with ambient light. 
Read More:
INTEL I9 11900K VS AMD RYZEN 7 5800X | BEST 8 CORE CPU?
MSI MPG CORELIQUID K360 ARGB CPU LIQUID COOLER
TOP 3 BEST LENOVO LEGION GAMING LAPTOP | LEGION 5 PRO
So this concludes the topic for Top five Best Projectors for Bright rooms. That's about it for me, I forgot to tell you something, If you're enjoying this article, please make sure to share the article. If you have any questions, comment down below, and I'll try my best to answer them.