Lenovo Smart Tab M10 HD Review | Low Budget Traveling Tablet!: What's going on guys, in this article a quick unboxing on Lenovo's smart tab, M10 HD tablet. So what comes inside the box. So inside the box, you're going to get a USB to type C connection. You have your power adapter, and you also have a micro connection to USB now the micro connection to USB actually goes to your docking station which is right here.
It also gives you this nice little pin, because the tablet comes with a micro SD slot. And last but not least you have your Lenovo tab M10 HD safety and warranty guide. Now we're going to set up the docking station. So, again, the docking station actually uses the micro connection to USB, and the connection is at the bottom. So we're going to insert that guy. like that, bingo, awesome, and the adapter you can actually use the Type C connection because the tablet itself has the type C connection to you know use it that way. Or you could just use the docking station to charge it up. Now for this review, I use the docking station a lot because it's a nice little stand.
So, this is one of the reasons why I like it because, you know, is able to stand, are you able to view it and do whatever you need to do. Alright, so the M10 HD tablet is a great portable device, super cheap. I think the retail price is around $129. The reason why I picked this guy up is because I like to travel a lot with my son, he likes to watch a lot of YouTube or go to NetFlix kids and watch his movies. So it's a nice little device to just travel around with. Now I'm going to power it on the power button is located right here at the top. And again, this guy is lightweight, weighing around zero points 85 pounds with a thickness of zero point 32 inches.
So right now he's going to power on, and once it power on we are going to go over some of the ports and features. Okay, so the device is powered on, let's go over some of the ports and features at the very top we have our headphone and mic combo audio jack right next to that we have our speaker. On the left-hand side, we have our two-point Pogo pin connection, which allows you to connect with the docking station, and on your right-hand side we have our volume up and down button, our power button, and our micro SD card slot, which is actually expandable to up to 256 gigs, which is awesome.
At the bottom of the tablet, we have our type C port, and as well as an additional speaker, Now I'm actually going to rotate this guy, the correct way. Boom. How beautiful is that right. So like I said the speakers are actually located on your left and right-hand side. The speakers are pretty loud when I test out the loudness, I got around 97.3 decibels, which is not that bad. When you. No need to listen to audio or watching a movie. Half the time I was always plugged in using the audio jack with my headphones, but the sound quality is not that bad, so the M10 actually has two webcams, we have the front and the back. the front is actually a 5.0-megapixel fixed focus, and the back one is 8.0 megapixels with autofocus.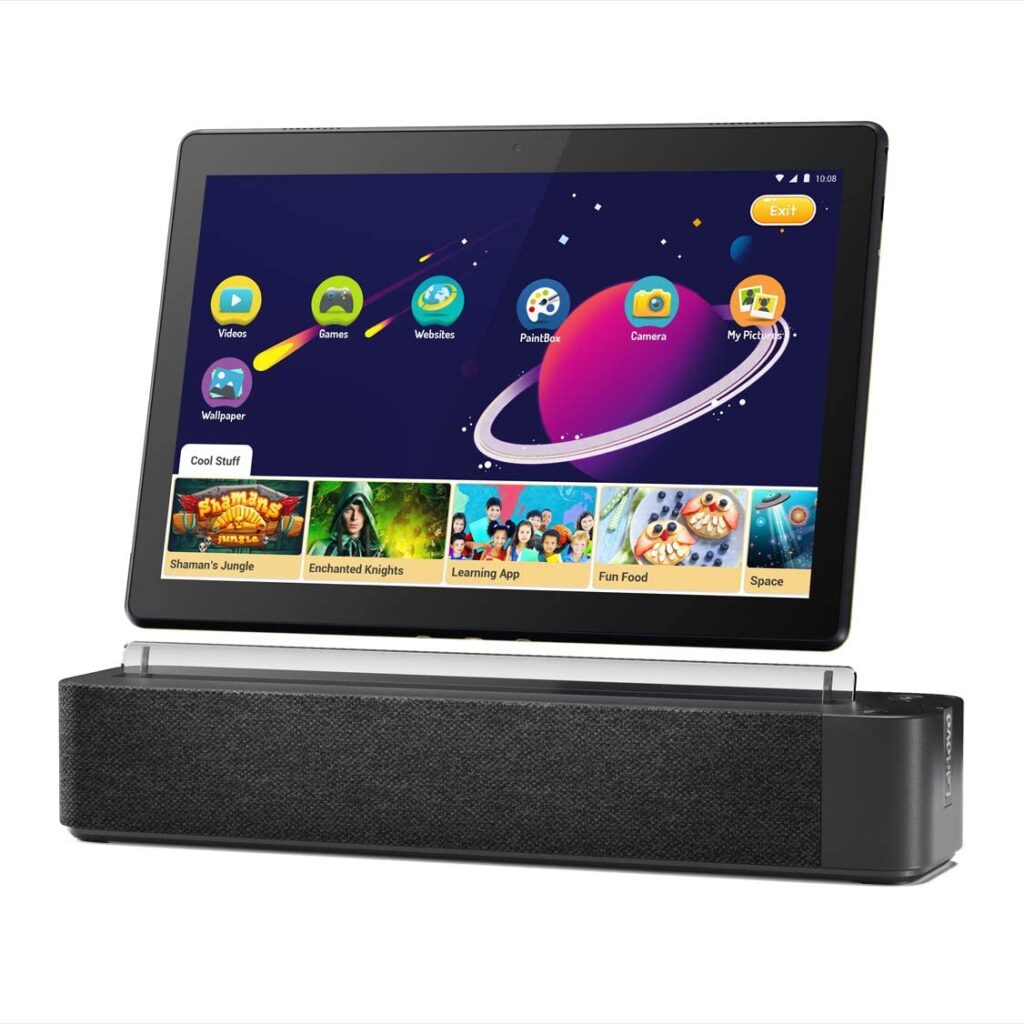 It's great when you're doing like zoom, or you're doing like Google Hangouts. So I didn't really use a webcam as much, because the whole purpose of the tablet was to travel with it with my son to entertain him and play games and stuff. We're going to go over some of the performance a little later because I wasn't too impressed with gaming on this machine. Now the display size is around 10.1 inches which are really good. Now the resolution on the M10 is 1280 by 800, IPS LCD display, the brightness right now I think this is in between so if I slide this guy here. And I open this guy up right here yep this is the highest. And this is the lowest that you could get on the display. I think if you want to know by nit. It's about 400. And if I go all the way up this is the highest. And this is like the middle range right here, which is not that bad.
Now for performance, as I said before, I wasn't impressed with the performance part on this particular tablet, I mean it's a tablet, you can't really expect like gaming performance. When I was playing like Subway Surfer or Among Us or like Fruit Ninja, a lot of lag viewing videos like Netflix, Hulu, going to YouTube, it's great, even checking email as well as going through your calendar and creating, you know calendar invites and stuff like that. The tablet works well on that part when I ran some benchmarking software on it, it was really slow, the memory on this particular model was only two gigs memory. I didn't notice any heating, which is a huge, huge plus.
The battery is amazing. It really depends on how you use it, I was able to get maybe between six to eight hours of battery usage on this guy without charging it, and that's my son watching a crapload of YouTube videos as well as going online and watching his favorite shows. Alright so let's conclude our review on the smart tab M10 HD from Lenovo, storage. You got two flavors, you can either get the 32 gig or the 64 gig one is really up to you, I would say go for the 64 gigs one and then you can always increase the storage using a micro SD card. Now, with the two types of storage, you know 32 Or 64 you could also get the one with LTE.
So that allows you to go mobile. You don't need to have it connected to Wi-Fi all the time, which is great. Pricing is not that bad for what I wanted to use this guy again is a travelling device for my son to play games, and he enjoyed it. The only problem was is that it was a little laggy for me. And that's okay. He didn't have a lot of complaints because the majority of the time he was just doing a lot of YouTubing the docking station is a huge, huge plus for me especially if you want to have it set up at your workstation and you just want to have it mounted there to view it, overall the tab M10 HD is great for travelling it's not too expensive.
On the $200, if you're looking for something to travel with for your kids to entertain them during those long road trips, if you want something to do with work, like check email, compose email go online do some searching. This is great if you're doing like editing with photos and stuff I don't recommend this guy because it's a little slow for that stuff and that's it guys hope you guys enjoyed this review.
Read More:
DUNU DK-2001 REVIEW | HI-RES DYNAMIC HYBRID HI-FI HEADPHONES
TOP FIVE BEST PROJECTORS FOR BRIGHT ROOMS
HUAWEI MATEBOOK X PRO 2020 LAPTOP REVIEW
XMG APEX 15 REVIEW | HIGH-PERFORMANCE GAMING LAPTOP
So this concludes the topic for Lenovo Smart Tab M10 HD Review. That's about it for me, I forgot to tell you something, If you're enjoying this article, please make sure to share the article. If you have any questions, comment down below, and I'll try my best to answer them.